Paia, Maui – A Quaint Little Tourist Town But With A More Native Feel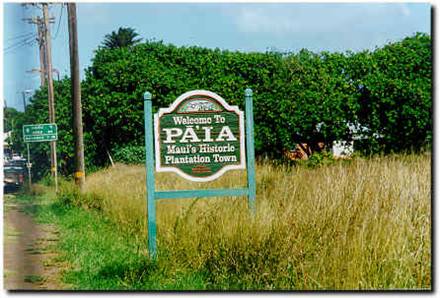 Nestled along the north shore of Maui is the charming little historic beach town of Paia. Once home to thriving sugar mills and plantations, Paia has a much more native and rural feel than do the larger tourist towns of Lahaina and Kihei, where one can easily be overwhelmed by the seemingly endless array of hotels, mini-malls and tourist shops.
Paia does, however, have much to offer in the way of shopping, as it is full of unique boutiques and quaint little antique stores as well as an old-fashioned tattoo parlor. It is also home to many locally-owned art galleries that seem to offer a much larger variety of native art than do the galleries in Lahaina, for example, where it seems that much of the art has been imported or mass-produced. The Maui Crafts Guild, located at 43 Hana Hwy, is located here. An artist-owned and operated cooperative gallery, it offers handmade crafts that range from baskets, silks, jewelry, pottery and glass to sculpture, wood, copper, and much more. All items are 100% handmade in Maui. If you are looking for a 'special something' to take home to a loved one, Paia is a great place to find that perfect gift.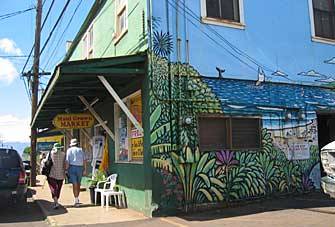 One of the many charming storefronts that line the main streets of Paia
Paia is also home to some of the best dining establishments on Maui, offering a wide variety of cuisines including Mexican food, crepes, Indian curries, Mediterranean and vegetarian cuisines as well as more native fare. About one mile east of Paia is Mama's Fish House – considered by many to be the best dining establishment in all of Maui ! Located in a coconut grove on a secluded white sand beach with spectacular Polynesian and tropical decor, Mama's Fish House serves fresh fish caught by their own fishermen, as well as steaks and seafood prepared Maui style. They are open for lunch and dinner from 11:00 am to 9:00 pm., and reservations are a must.
Another great place to visit near Paia is the Makawao Union Church. Built in 1916, this charming old-world style church is listed in the National Register of Historic Places. However, it is easy to miss, as it is located just outside of Paia's shopping district – approximately 2 1/4 miles up Baldwin Avenue.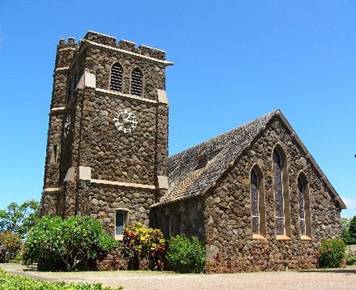 Makawao Union Church in Paia
The Paia area is also home to some of Maui's most beautiful beaches, including Baldwin Beach Park – one of Maui's most beautiful white sand beaches. It is great for swimming, as lifeguards are on duty daily; and while the beach is usually un-crowded during weekdays, it is a very popular spot with the local residents on weekends. Only minutes away further down the Hana Highway from Paia is Hookipa Beach Park, which is called the windsurfing capital of the world. This is Paia's most publicized beach. While you can watch surfers year-round here, the winter months that bring the wind and big waves to the North Shore are when the windsurfers and kite surfers come out. It's quite common to see wave-jumping and flips at this time of the year. Several professional competitions are held each year at Hookipa, which attracts competitors from all over the world. A good many of the pros live in Maui and use Hookipa as their training grounds. Please note, however, that the currents, waves and winds can be incredibly strong at Hookipa, and visitors are strongly cautioned that this is not a beach where warning signs should be ignored.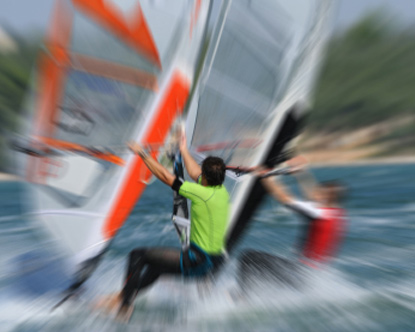 You'll see some of the world's best windsurfers at Hookipa Beach, just outside of Paia.
While Paia is not exactly off the beaten path, a visitor to this little town can easily feel as though they have just stepped backwards in time and get a true sense of the quiet and laid-back lifestyle that is typical of the way native Hawaiians live.
Paia is located along Maui's north shore on Hana Highway - just five minutes northeast of the Kahului airport.
Enjoy!