The new, sporty looking 2009 minivans are the ultimate way to see the islands if you are traveling with a family or small travel group. These vehicles will seat up to 7 passengers comfortably with plenty of room left for the luggage. The minivans all come with such standard features as an automatic transmission, a powerful V-6 engine, air conditioning, cd player, dual airbags and plenty of stopping power with anti-lock brakes. Gas mileage ranges from 23 mpg to 25 mpg.
The newer minivans look appealing and their performance is excellent. In 2009, Brand D and Brand T are offering the Dodge Caravan. Brand X and Brand A is offering the popular Chevrolet Uplander while their sister company, Brand B, is offering the Ford Windstar.
The Caravan's rear seat does fold down making it an excellent way to transport a surfboard or just store extra luggage. For families requiring car seats, the current rates are as follows: Brand D and Brand T are $10 per day plus tax with no ceiling. Brand A and Brand B are $9 per day, $45 per week and cap out at $60 per month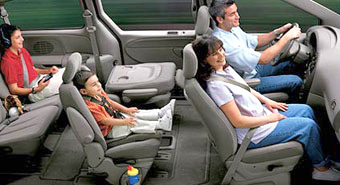 Dodge Caravan



Ford Freestar

Rates shown are base amount only. Does not include Hawaii State taxes and additional airport surcharges. In the event, a particular model is sold out. we will strive to reserve a similar class and category for you.


Minivan Rentals available Kahului Airport, Maui (OGG), Honolulu Airport, Waikiki, Oahu (HNL), Lihue Airport Kauai (LIH), Hilo Airport Hawaii (ITO) and Kona Airport Hawaii (KOA)

Reasons Why Purchasing a Minivan Might Be Right for You
There are so many different vehicles on the market today that individuals show interest in purchasing. Some people look into buying sports cars whereas other individuals express an interest in purchasing vehicles that are more family-oriented. more...