Rental Car Booths and Pickup Locations in Lihue LIH Kauai Airport



Operating hours: 5:30 am – 9:30 pm (10/31 – 4/2)
5:30 am – 9:00 pm (4/3 – 10/30)
Lihue Airport is situated on the southeast coast of the island of Kauai. The airport provides passenger and aircraft facilities for domestic, interisland, commuter/air taxi, air cargo, and general aviation. Airport access is provided by Ahukini Road, which is connected from Kapule Highway.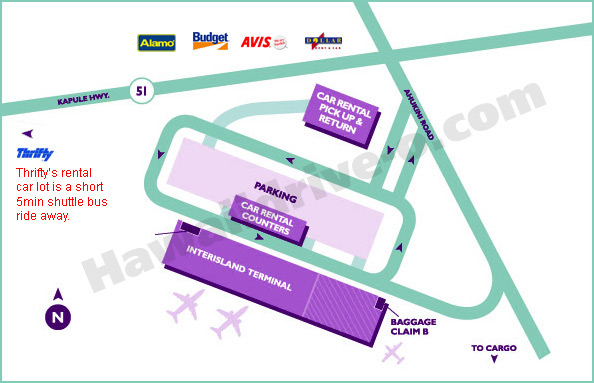 Map and directions to Lihue Airport
Upon arrival, go to baggage claim. Once you have retrieved your baggage, walk out onto the sidewalk and you will see all of the car rental agency booths directly across the four lane street. There is a street light and usually a traffic policeman there to ensure your safety as you cross the street. Go to the booth bearing the name of the agency you have rented with to fill out your rental agreement.
Once the agreement is filled out, you walk around behind the rental agency booths and board the shuttle bus which will take you out to the pick up lot. The driver will help you load your luggage. Avis, Budget and Dollar are all within a few blocks of the airport. The Thrifty pick up lot is located at 3120 Oihana Street which is a little less than a mile south of the airport. The shuttle bus ride to Thrifty will take approximately 10 minutes.



Thrifty Kauai LIH
3120 OIHANA STREET
LIHUE INTERNATIONAL AIRPORT
(877) 283-0898





Thrifty's rent-a-car lot is a 7 min shuttle ride from Lihue Kauai terminal. This minor inconvience is offset as you will not pay airport surcharges on your rental vehicle.